News Archive 2008

3 July 2008:
Sumatran Tiger from Montserrat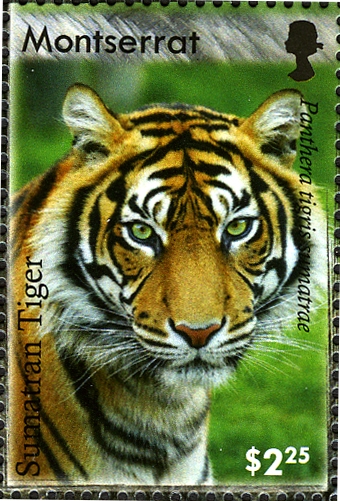 Lion Man Rock Art in Twyfelfontein, Namibia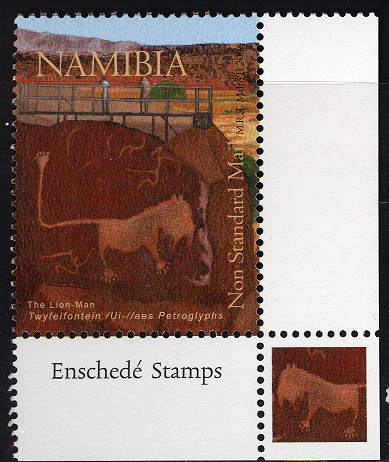 On 27 June 2008 Nampost issued a set of stamps devoted to the Petroglyphs at Twyfelfontein World Heritage Site. Twyfelfontein is a site in the Kunene Region of Namibia containing 2,000 figures of rock carvings. In 2007, UNESCO approved it as Namibia's first World Heritage Site.
One of the three chosen motifs is called "Lion Man" and is notable in that it depicts the transformation of humans into animals.
The stamps are issued as two different NVIs - in ordinary sheets at the Non Standard Mail rate (NAD 6.50 at the time of issue) - and as a Miniature sheet with 3 Standard Mail rate stamps (NAD 2.00 at the time of issue).
The sheets with the Lion Man Non-standard Rate stamps also shows the lion in the four corner labels of the sheet.
The products are available at Nampost's online store.
Reported by Marci Jarvis

Grendada's 'Cats of the World'
Grenada issued a set in the 'Cats of the World' omnibus series. The set consists of a miniature sheet with 4 x USD 1.40 stamps and a single-stamp miniature sheet with a face value of USD 6.00.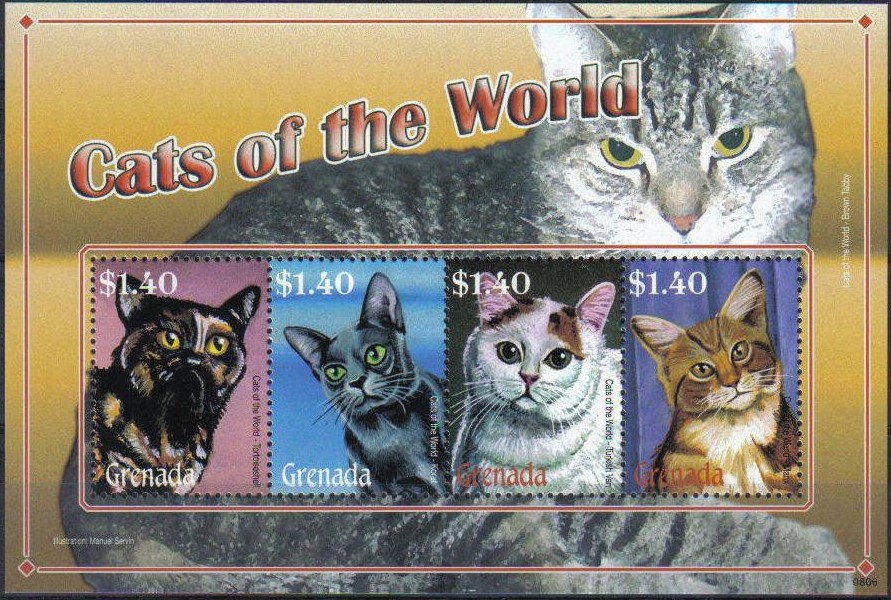 The four 1.40 stamps represents a Tortoiseshell (unspecified breed), a Korat, a Turkish Van and a (curiously somali-looking) 'Manx'. The selvedge portrays a Brown Tabby of unspecified breed.

14 June 2008:
A Tiger at the Circus - New French Franking Label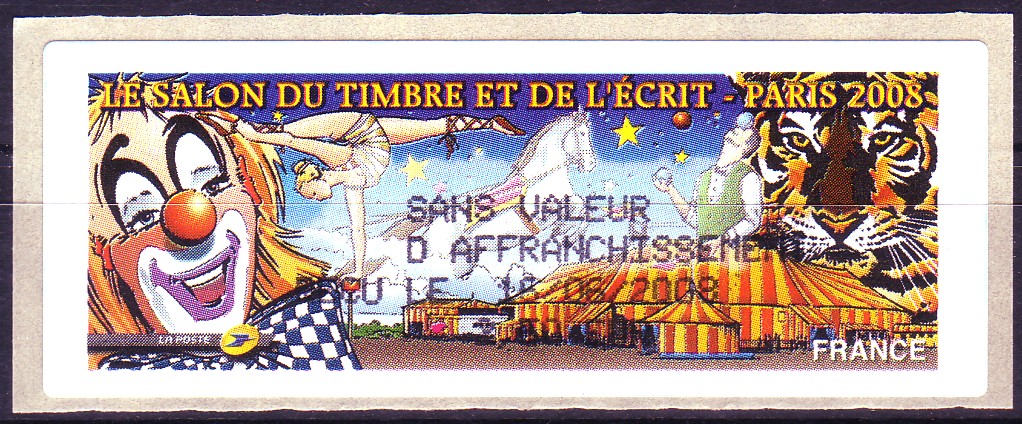 10 June 2008:
Carry on Cleo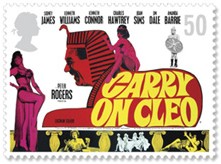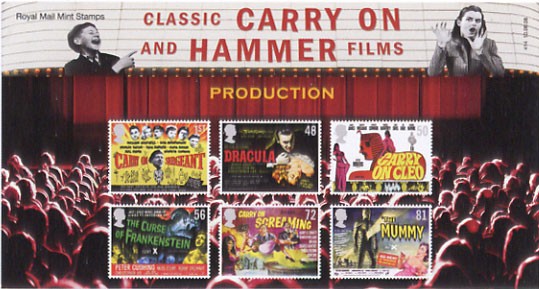 US Fishing Derby Postmark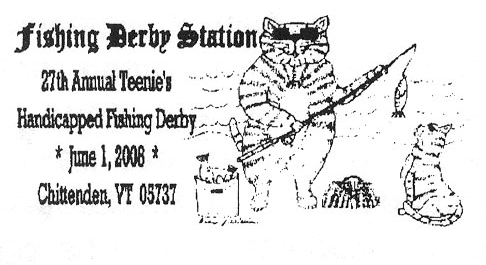 A special postmark featuring two cats will be in use in Chittenden, Vermont on 1 June 2008. The postmark show a cartoon drawing of two cats.
The postmark is available until 1 July 2008 by sending self-addressed, stamped envelopes or postcards to:
Teenie's Tiny Poultry Farm and Museum
Fishing Derby Station
Postmaster
PO Box 9998
CHITTENDEN, VT 05737-9998
USA
Letter rates: US: 42c, CA/MX: 72c, World: 94c
Reported by Marci Jarvis

28 May 2008:
Czech Classic: A Doggie and a Pussycat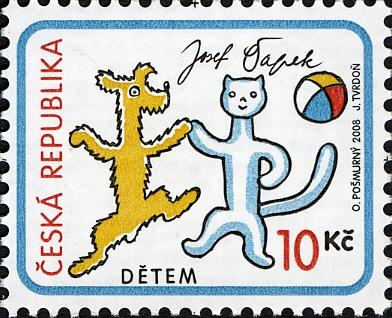 23 May 2008:
USS New Jersey Winged Lion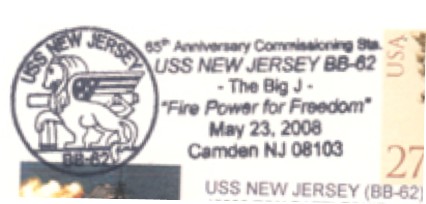 New Ukrainian Cats
Ukrposhta issued another cat set on 16 May 2008. A miniature sheet with six stamps each denominated UAH 1 was issued, showing 6 different breeds:
| | | |
| --- | --- | --- |
| | | |
| Persian | Selkirk Rex (Longhair) | Exotic Shorthair |
| | | |
| Burmese | Siamese | Kurilian Bobtail |
All stamps and the MS selvedge have been furnished with cats' paw prints which are only visible under ultraviolet light (see above).
A joint FDC and individual Maximum Cards have also been issued and the first day postmark shows a very nice oriental type cat.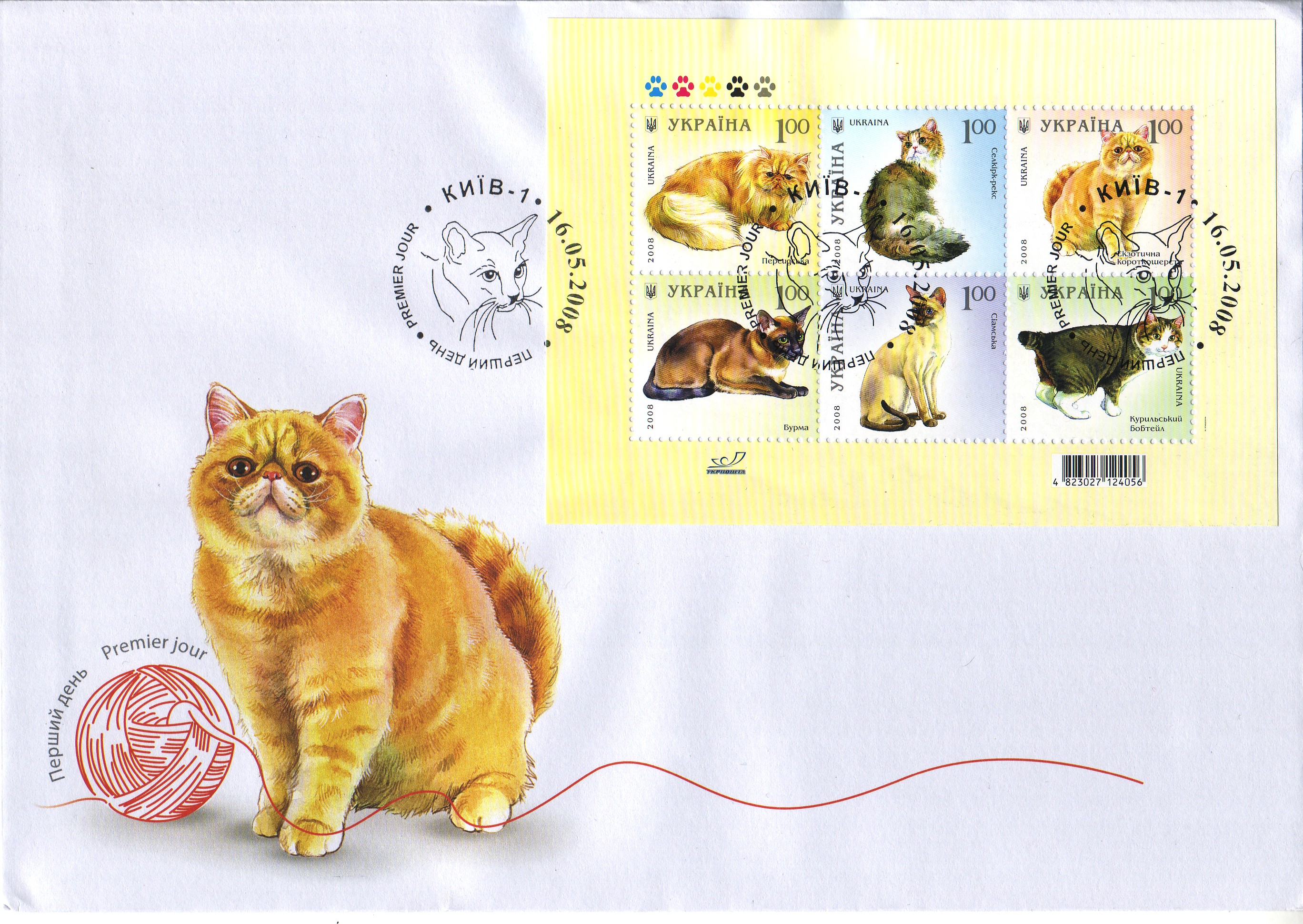 See Ukrposhta's website for further details. They have a web-shop, but no means of online payment. They'll send you a pro-forma invoice and a credit card payment form. The service is a bit slow, but reliable enough, and you only pay face value without very heavy postage and packing fees.
Reported by Geir Arveng

Several Cat Items issued for Israel 2008 Stamp Exhibition
Israel 2008 is aranged in Tel Aviv 14 - 21 May 2008. Several philatelic items will be issued for this world class event, several of them of interest to cat collectors.
There are two prestige booklets aimed at children - one a re-issue of last year's Hula Nature Reserve stamps including the Jungle cat. The ILN 2.25 self-adhesive stamp differs from the 2007 booklet issue by a deeper coloration of the face value numbers, and also a "weaker" impression of the right hand text. The easiest way to spot the difference is by checking the rasteration of the denominational numbers through a magnifying glass. White-spotted raster is from the 2007 booklet - a more even color with black spots are from the 2008 prestige booklet.
| | |
| --- | --- |
| | |
| December 2007 booklet stamp | May 2008 prestige booklet stamp |
Click here to see a detailed presentation of the booklet and all its panes and pages.
The other prestige booklet is dedicated to Noah's Ark and includes a self-adhesive version of the December 2007 stamps.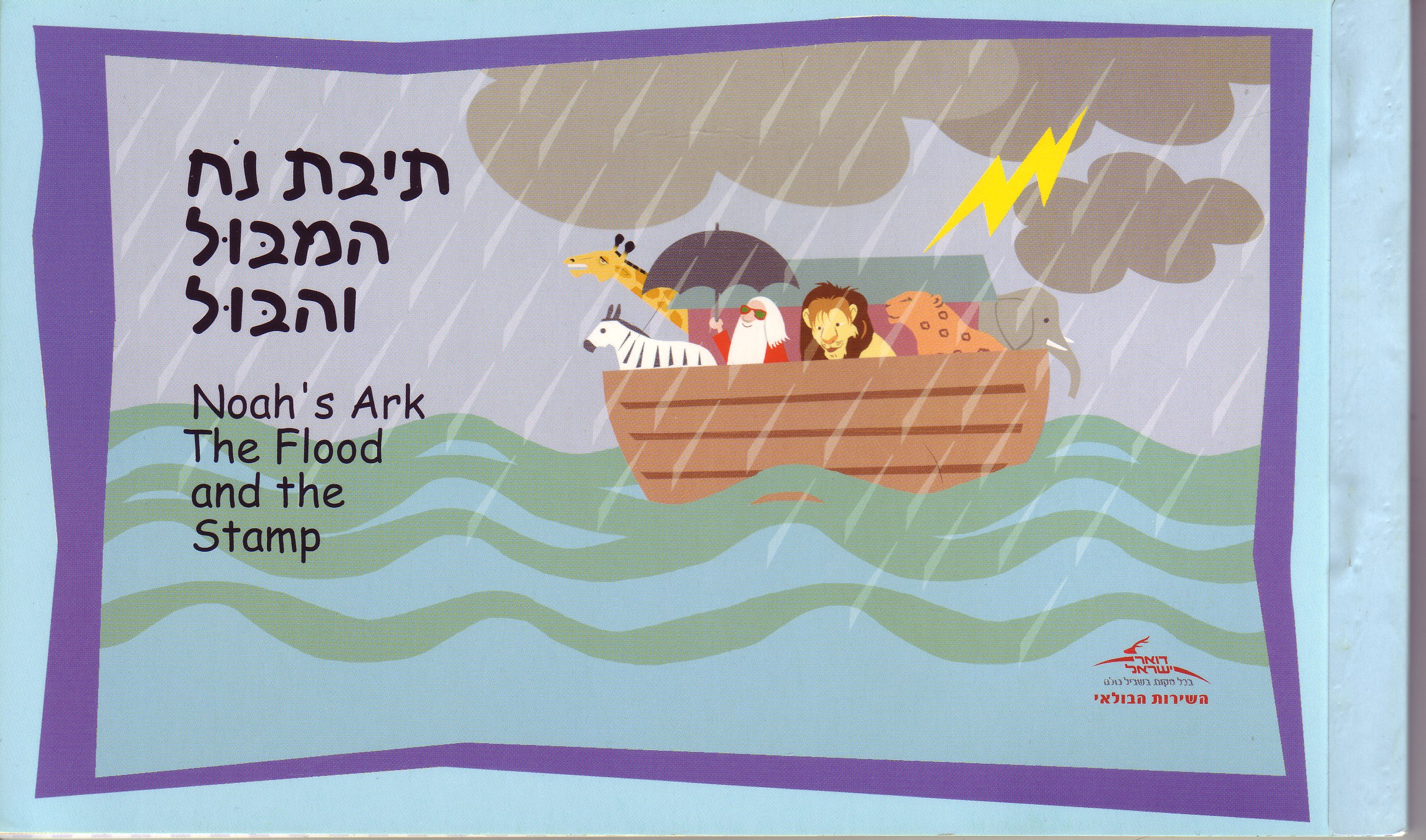 Click here to see a detailed presentation of the booklet and all its panes and pages.