28 February 2019:
Centenary of the Free State of Bavaria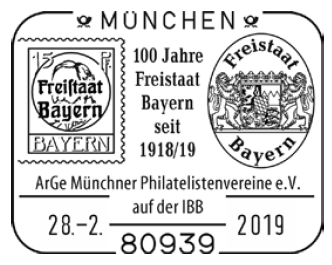 To celebrate the creation of the Free State of Bavaria within the German Republic, a commemorative postmark will be available at the Munich Stamp Fair 28 February - 2 March 2019. The postmark includes the greater coat of arms of Bavaria, with multiple heraldic lions.
The fair takes place in
MOC-Veranstaltungscenter, Lilienthalallee 40, 80939 München, and the German Post Stand is manned from 1000 - 1800 (10 a.m. - 6 p.m) on Thursday and Friday, and from 1000 - 1600 (10 a.m. to 4 p.m.) on Saturday.
If you would like to send for this postmark, you can obtain it by sending addressed envelopes/postcards franked with German stamps (computer postage not allowed) to:
Deutsche Post AG
Niederlassung Multikanalvertrieb
Sonderstempelstelle
DE-92627 WEIDEN, Germany
The outer envelope should be marked with "Sonderstempel nr. 03/016", and must arrive at the Special Postmark Office no later than the last day of use.
Postage rates:
Germany:
Postcard EUR 0.45 / Standard letter EUR 0.70
International:
Postcard/letter EUR 0.90
Reported by Geir Arveng
23 January 2019:
Shared Joy from Finland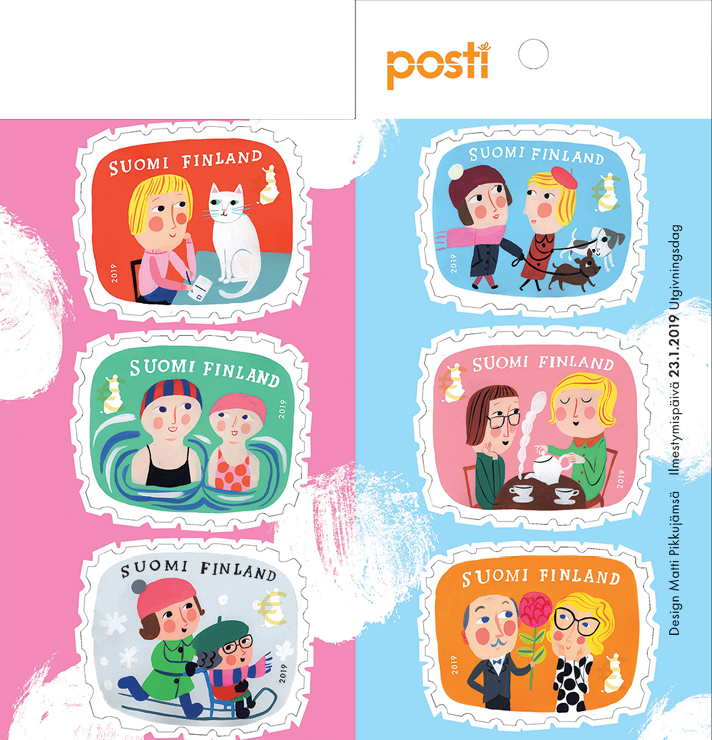 The Finnish Post issues a booklet of 6 self-adhesive stamps on 23 January 2019 titled "Shared Joy" and consists of drawings of togetherness and friendship. One of the stamps shows a cat and its owner.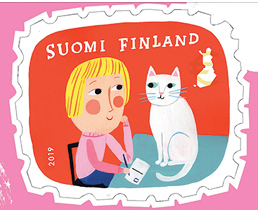 The stamps are designed by Matti Pikkujämsä and they are all denominated for inland postage, symbolized by a map of Finland (EUR 1.50 on issue).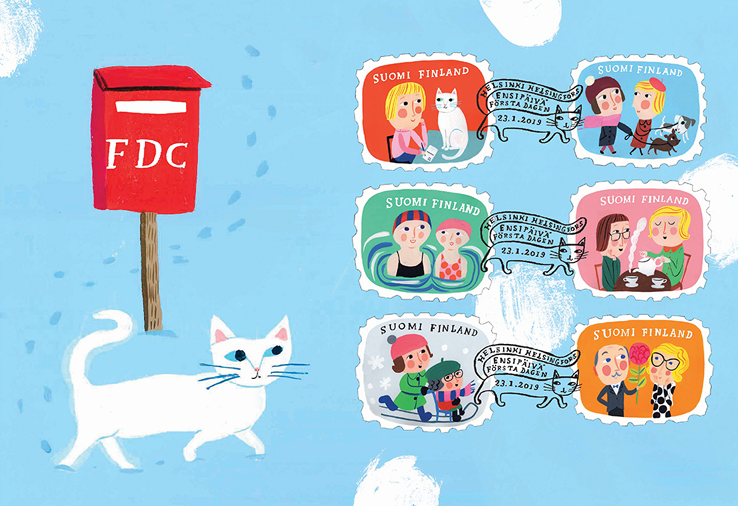 The cat is also shown on the FDC and in the first day postmark.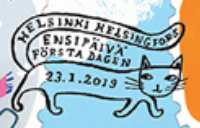 The issue can be ordered from Posti in Finland, and also from WOPA+.
Reported by Marci Jarvis
4 January 2019:
Monaco Circus Stamps
The 43rd Circus Festival takes place in Monte Carlo 17-27 January 2019. To mark the occasion, the Monegasque Stamp Office issues a stamp on 4 January 2019 showing the festival poster with a Lion as the central motif. The stamp is denominated EUR 1.30 (international letter rate).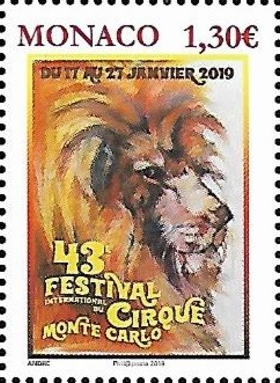 The Lion can also be found in the first day postmark for the issue.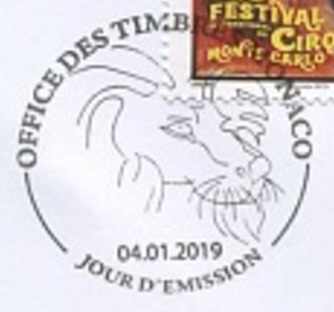 On the same day, Monaco also issues a stamp to mark the 10th Anniversary of the World Circus Federation. The stamp is denominated EUR 1.05 (priority letter for France, Andorra, or Monaco), and shows the fedration logo surrounded by pictures of various circus acts. A pair of Tigers can be found in the upper right corner of the stamp.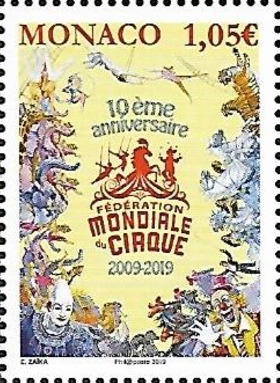 Monegasque stamps can be ordered directly from OETP and also from WOPA+.
Reported by Marci Jarvis