19 May 2018:
60th Anniversary of Piggott Lions Club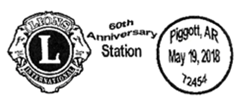 The Lions Club of Piggott, AR celebrates its 60th anniversary, and this is marked by a commemorative postmark in use on 19 May 2018.
The postmark is free, and available until 19 June 2018 by sending envelopes or postcards franked with US postage to:
Lions Club
60th Anniversary Station
Postmaster
116 North 3rd
PIGGOTT, AR 72454–9998
USA
Postage:
US postcard: USD 0.35 (or a postcard stamp)
US letter: USD 0.50 (or a Forever stamp)
International postcard/letter: USD 1.15 (or a Global Forever stamp)
Reported by Marci Jarvis
20 April 2018:
New Norwegian Personalised Stamp Prototypes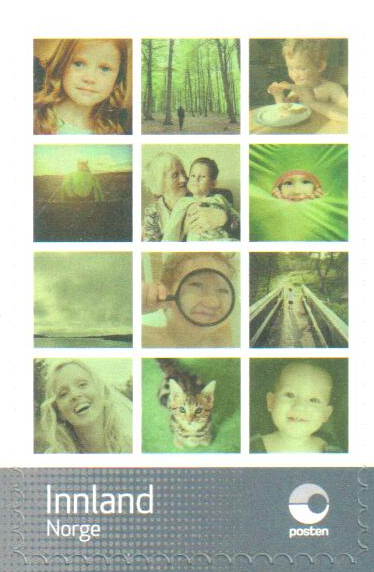 A new Norwegian postal rate structure introduced fra 1 January 2018, has spurred new designs for personalised stamps. Norway Post has issued prototypes for the new designs with a set of stamps showing 12 small "Instagram photots".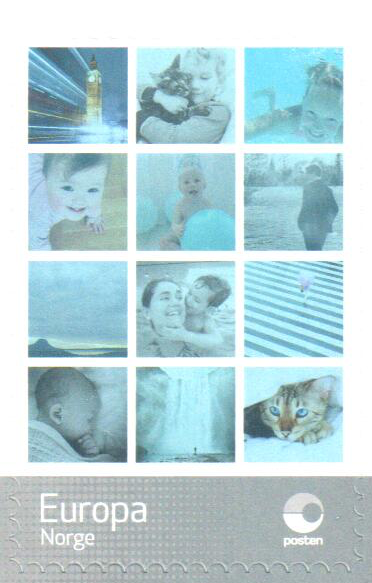 Both stamps have cats among the twelve photos. The Innland-denominated stamp (standard inland postage - NOK 14.00 on issue) has a tabby kitten in the 11th position, and the Europa-denominated stamp (standard European postage - NOK 18.00 on issue) has two cats - a child carryion a tortie cat in 2nd position, and a tabby kitten peeking out from its covers in 12th position.
The stamps can be ordered at face value from the Norway Post Webshop (real personalised stamps are sold at a premium):
They can also be ordered via WOPA.
Reported by Geir Arveng
5 April 2018:
Canadian Sphynx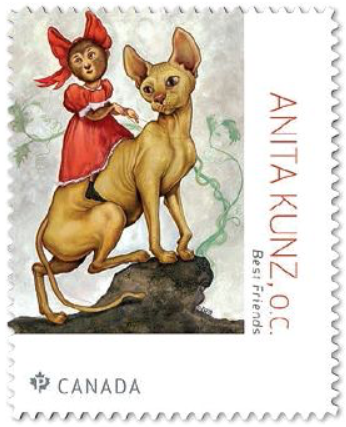 Canada Post will issue a booklet and souvenir sheet from Great Illustrators on 5 April 2018. One stamp by Anita Kunz is of interest to us. A little girl dressed in a 19th century outfit is riding a Sphynx! The stamp is a "P" or Permanent value (CAD 0.85 on issue), like the Forever stamps in the U.S. The booklet consists of self-adhesive stamps, while the MS is gummed. The Sphynx stamp will thus exist in two versions.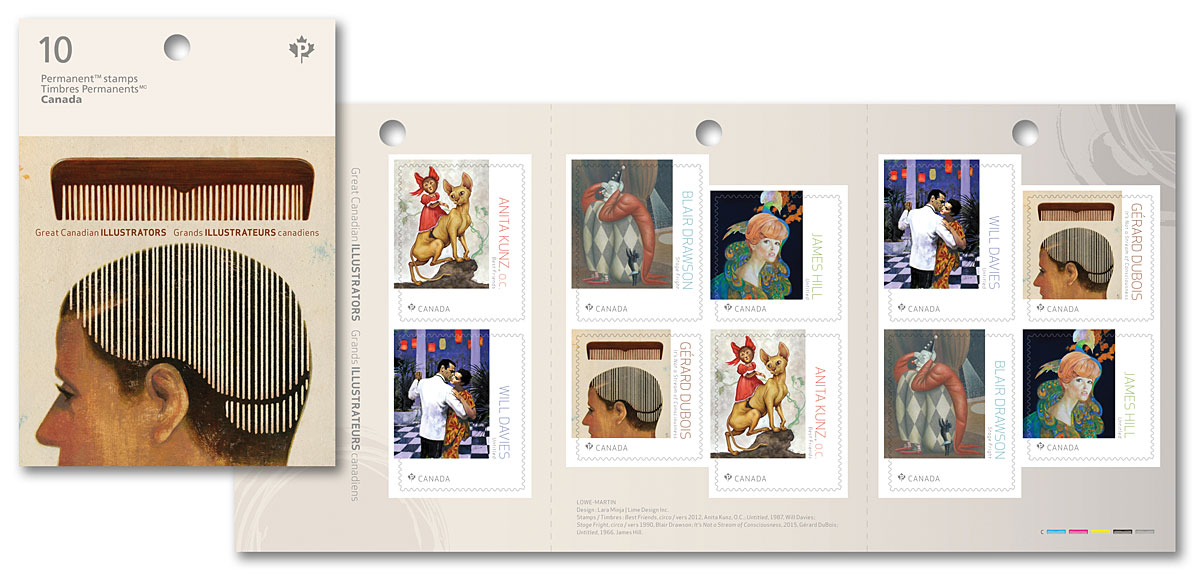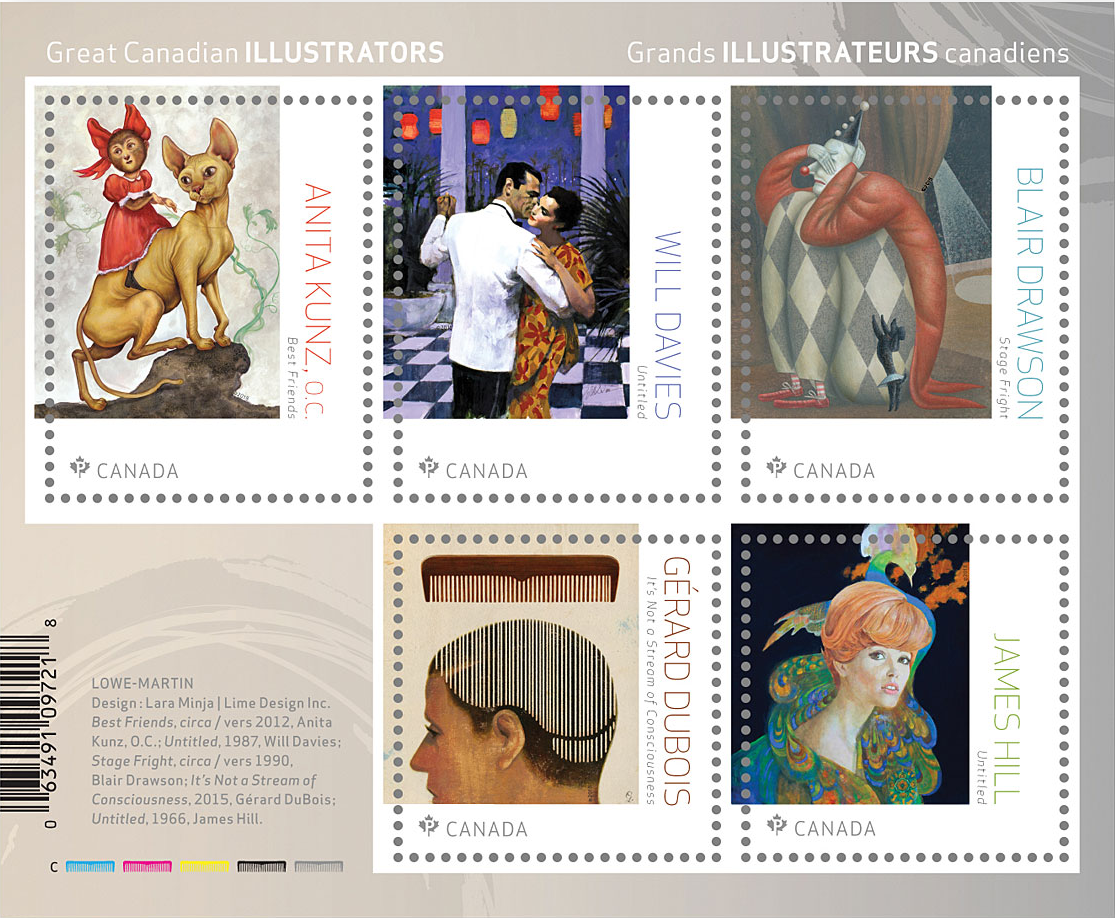 The same design as the stamp has also been seen as a stamp indicium on an envelope mailed in Canada in the beginning of March. We have had this reported both as a commercial mass mailing and as personalised, computer vended, downloadable postage, and as per now we do not know. If you know - please share.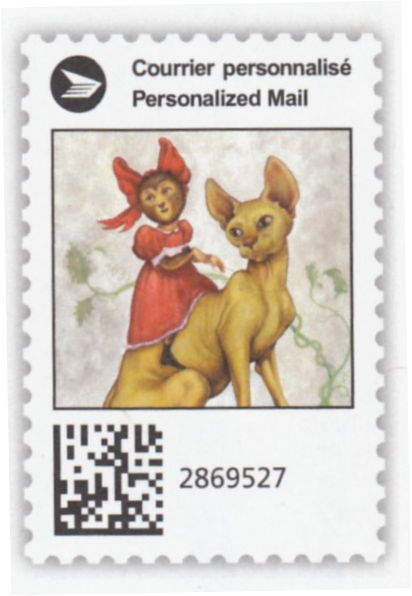 UPDATE: We have now learned that this imprint was used on the (domestic version?) of the Canadian philatelic bulletin Details No. 3 2018 (see back cover).
Reported by Marci Jarvis