4 November 2018:
Viterbo Remembers World War I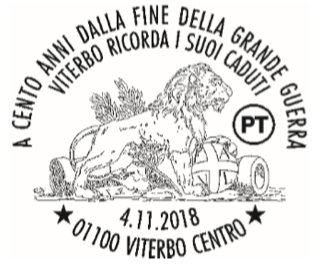 On 4 November 2018, the Italian city of Viterbo celebrates the Centenary of the end of World War I with a special postmark showing the city's symbolic Lion.
For those not in the city on the day of use, the postmark can be ordered by sending letters or postcards franked with Italian stamps to:
Poste Italiane S.p.A.
U.P. Viterbo Centro
Sportello filatelico
Via F. Ascenzi, 5
IT–01100 VITERBO, Italy
Italian special postmarks are normally available for 20 days after the last date of use.
Postage:
Italy/San Marino/Vatican:
EUR 1.10 / B
Europe/Mediterranean:
EUR 1.15 / B Zona 1
The Americas and other countries in Asia and Africa:
EUR 2.40 / B Zona 2
Oceania:
EUR 3.10 / B Zona 3
Reported by Geir Arveng
1 November 2018:
Australia: Looney Tunes Christmas Stamp Pack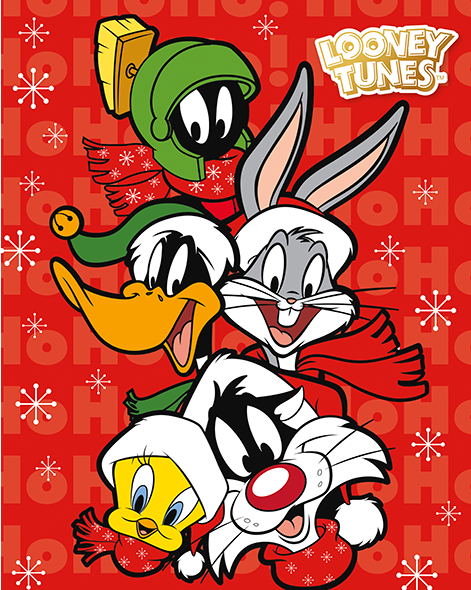 Christmas is coming, and on 1 November 2018, Australia Post releases this year's holliday products. Among many issues for the Christmas season is a stamp pack with Looney Tunes cartoon characters wearing various seasonal attire. Naturally, our feline friend Sylvester is featured.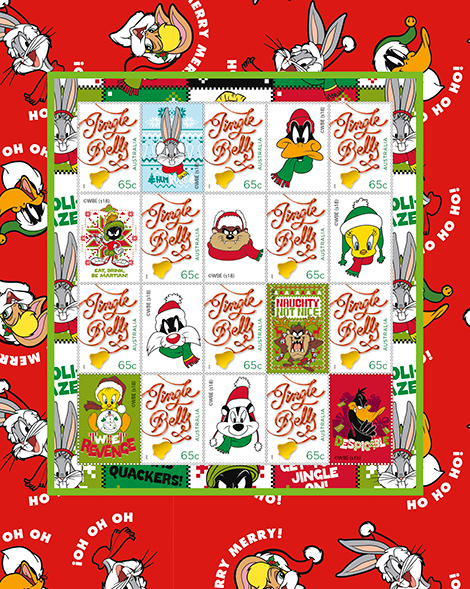 Stamp packs consists of 20 stamps with pre-personalised labels, and apart from the cover, Sylvester figures on two of these.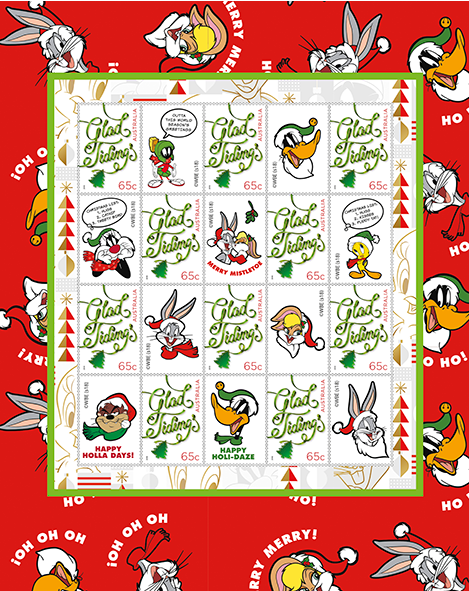 The Looney Tunes stamp pack contains 20 AUD 0.65 stamps (inland Christmas card rate) and 20 pre-personalised labels.
The pack is sold at AUD 16.00, and can be ordered from Australia Post's online shop.
Reported by Geir Arveng
31 October 2018:
Taichung World Flora Exposition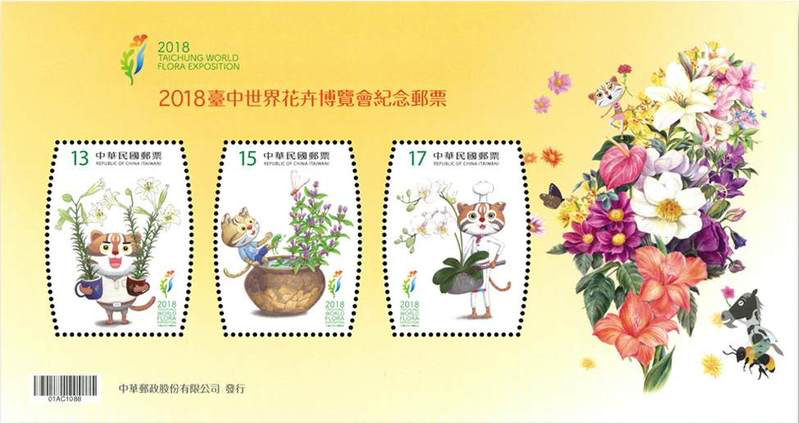 The 2018 Taichung World Flora Exposition will be held in Taichung, Taiwan from 3 November 2018 to 24 April 2019. Taiwan's Chungwa Post will issue a set of stamps and a miniature sheet for the exhibition on 31 October 2018.
The four ordinary stamps in the set all depict flowers, but on the 3-stamp MS, the show's mascot family of Leopard Cats are featured on all three stamps as well as on the selvedge.
The TWD 13 stamp depicts Leo, the father, holding lilies. The TWD 15 stamp shows a vase with Life, the younger brother, playing around while admiring Da-Ann Hygrophila, and the TWD 17 stamp bears Leona, the mother, holding a butterfly orchid.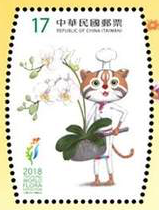 A fourth family member, Love, the older sister, can be found among the flowers on the MS selvedge.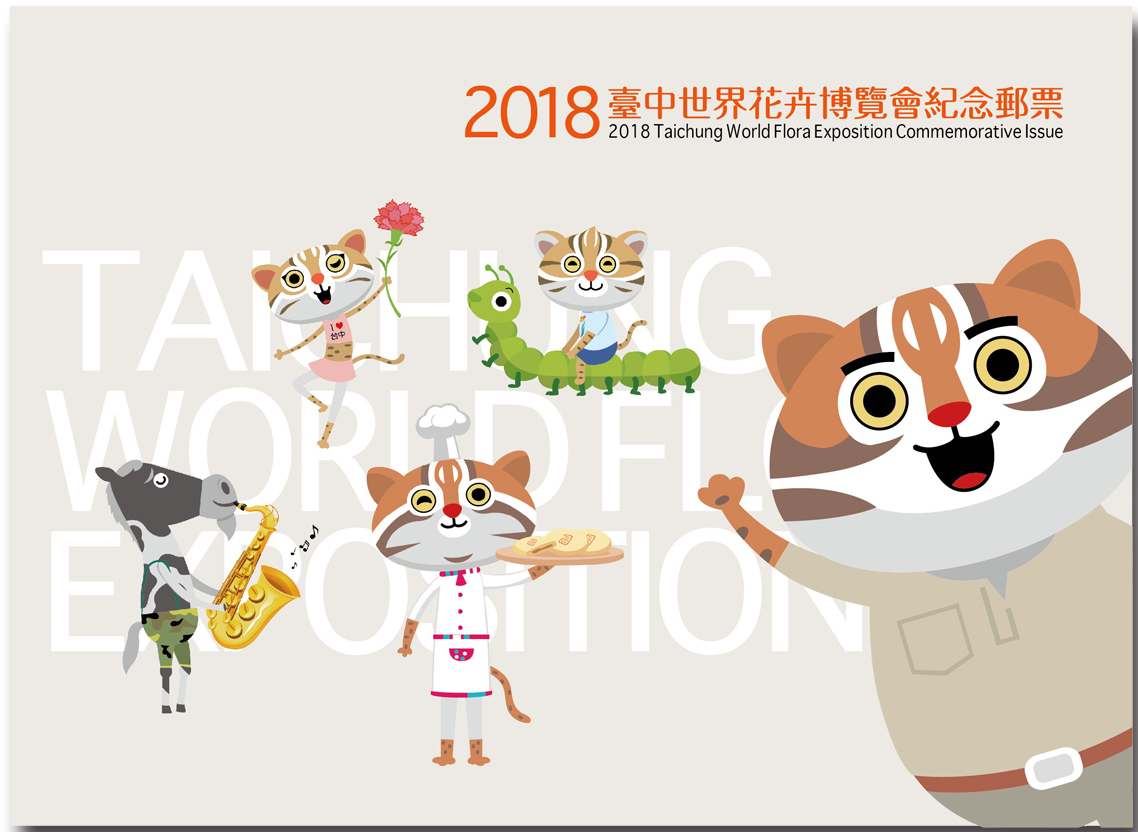 There's a FDC with the MS (we have not seen a scan yet) sold at TWD 48, an ordinary presentation pack sold at TWD 53, as ell as a so called Stamp Folio (a sort of "de luxe" presentation pack??) sold at TWD 200. Both packs show the mascot family on the covers.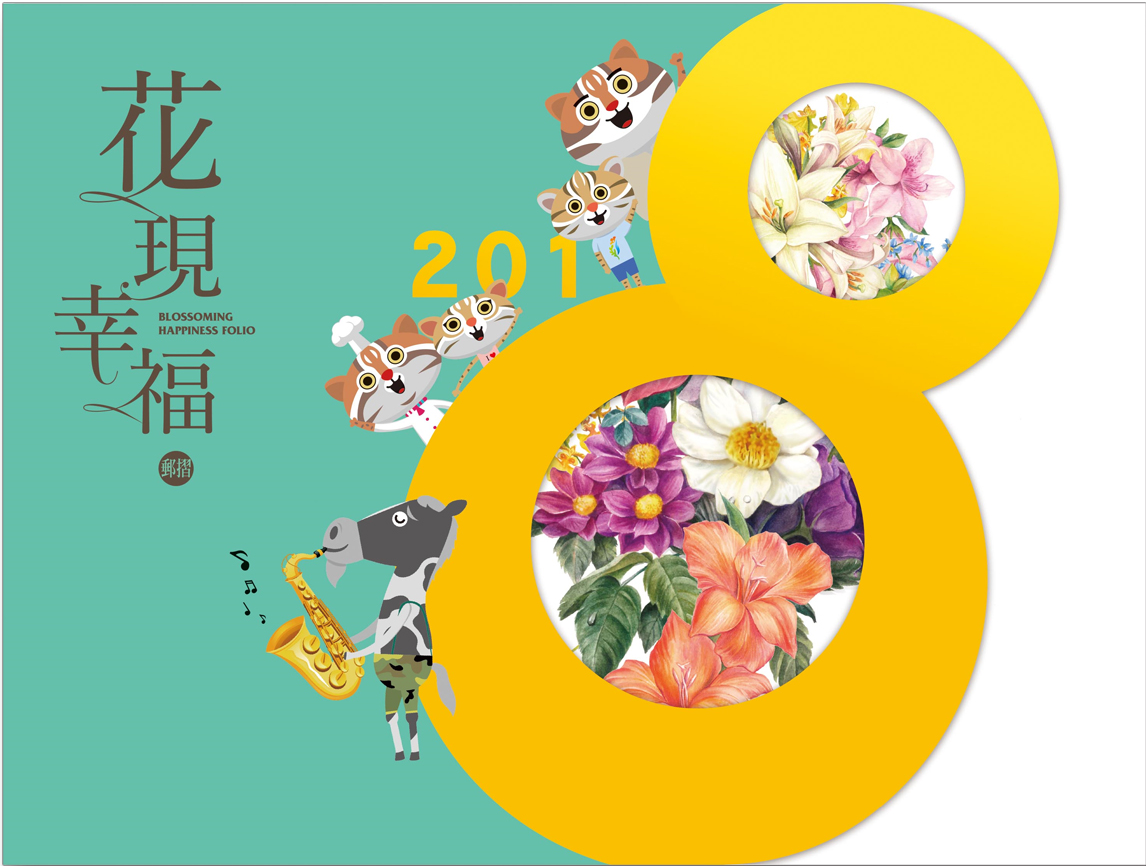 The stamps and philatelic products can be ordered from Chungwa Post's Online Stamp Mall.
Reported by TS Tan